Laser Tattoo Removal – How Does It Work?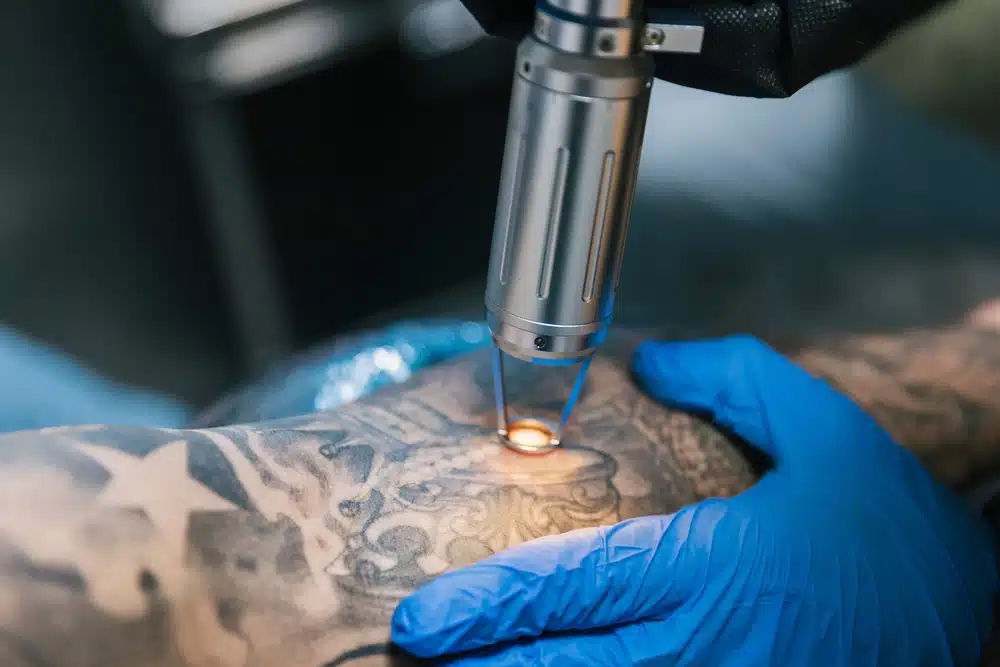 Unwanted tattoos are a reality for many people. The tattoos you got when you were younger may not represent who you are today, or you may just want a fresh start. Regardless of your reasons for seeking out tattoo removal services, our laser tattoo removal at Franklin Skin and Laser can give you the results you are looking for.
Laser Tattoo Removal uses light treatments to target different pigments on the skin. The best laser technology can be adjusted to treat many different colors of ink and serve the widest range of patients. With our services in Franklin, TN, we are always searching for comfortable treatments that can give our patients effective results. We are a physician-run practice, and we prioritize both safety and artistry in all of our treatments.
How Laser Tattoo Removal Works
Laser tattoo removal works by using a high-intensity beam of light called a laser to target the ink of the tattoo and break it down. Using fast pulses of energy, the light penetrates the skin and is absorbed by the ink. This causes the ink to break into smaller particles that are more easily absorbed by the body.
Throughout the course of several treatments, more and more of the tattoo is treated. Certain colors can be broken down more quickly. Other colors may require more sessions to effectively fade. The device that we use can be customized to treat different pigments in the tattoo, allowing us to target these more difficult colors.
Factors That May Affect Your Laser Tattoo Removal
The Size and Color of the Tattoo
While laser tattoo removal can be effective for tattoos of all sizes and colors, these two factors may impact how many treatments you will have to schedule to achieve full removal. If you have a tattoo that is primarily made of darker colors such as black, it may take fewer sessions to remove.
Some of the more difficult colors to target include yellow, red, and blue. If you have a large tattoo, it may need to be treated in smaller sections to allow your body to more effectively absorb and eliminate the ink.
The Age of the Tattoo
If you have a very new tattoo (within the last two months), it will be necessary to wait some time before beginning the removal process. You should wait at least six to eight weeks before your treatment to make sure your skin has healed. Older tattoos are usually easier to remove with laser tattoo removal, so you likely won't have to have as many sessions if it has been there for a while.
The Location of the Tattoo
The location of your tattoo may impact how quickly it fades after your laser removal. If the tattoo is in a location that has a lot of blood flow and circulation such as your legs or arms, you may find that you need fewer sessions for the tattoo to completely fade. However, tattoos can be removed from virtually anywhere as the device can be adjusted to treat different areas.
Benefits of Laser Tattoo Removal
Effectively Remove Unwanted Tattoos of All Sizes and Colors
Whether you need more sessions or fewer sessions, tattoos of all sizes, colors, and ages can be effectively removed with our laser removal services. This treatment is the most effective way to remove tattoos without damaging the skin.
Limited Downtime After Treatment
While your skin may be a little sensitive after your laser tattoo removal, you won't have to worry about having any downtime after your appointment. As long as you protect the area from irritation, avoid sun exposure, and avoid touching or itching the area, you can return to most regular activities.
Minimal Pain and Discomfort
Our laser removal for tattoos comes with very minimal pain and discomfort. You will feel a sensation that is similar to being snapped with a rubber band each time the laser energy is applied to the skin.
Depending on the area that is being treated, this sensation may be more or less intense. However, advanced laser technology has allowed for treatments to become less painful and damaging to the skin than previous technology.
Laser Tattoo Removal Before and After Photos
What Is the Laser Tattoo Removal Process?
Before you are treated, we will meet with you to assess your tattoo and determine the best course of treatment. Then we will clean and sterilize the area, and a topical anesthetic may be applied to the skin depending on the patient and situation.
Next, we will adjust the settings of our laser device to suit your tattoo. We will use the handheld device to deliver the short pulses of laser light to the treatment area. We may give your skin short breaks during the treatment to allow it to cool.
Once the planned treatment area has been thoroughly treated, we will give you aftercare instructions. We may recommend ice or a healing ointment to help your skin heal faster after your treatment. Then you will wait several weeks before scheduling any additional treatments. We will always follow up with you to see whether more treatments are necessary.
Laser Tattoo Removal in Franklin, TN
If you are ready to have a tattoo removed, whether old or new, we would be happy to schedule a laser tattoo removal consultation to talk about the process. At Franklin Skin and Laser, we always take the time that is needed to provide you with the best and most personalized services. To appointment in Franklin, TN, you can call us at (615) 800-7879 or reach out to us online.