How Long Does Laser Hair Removal Take?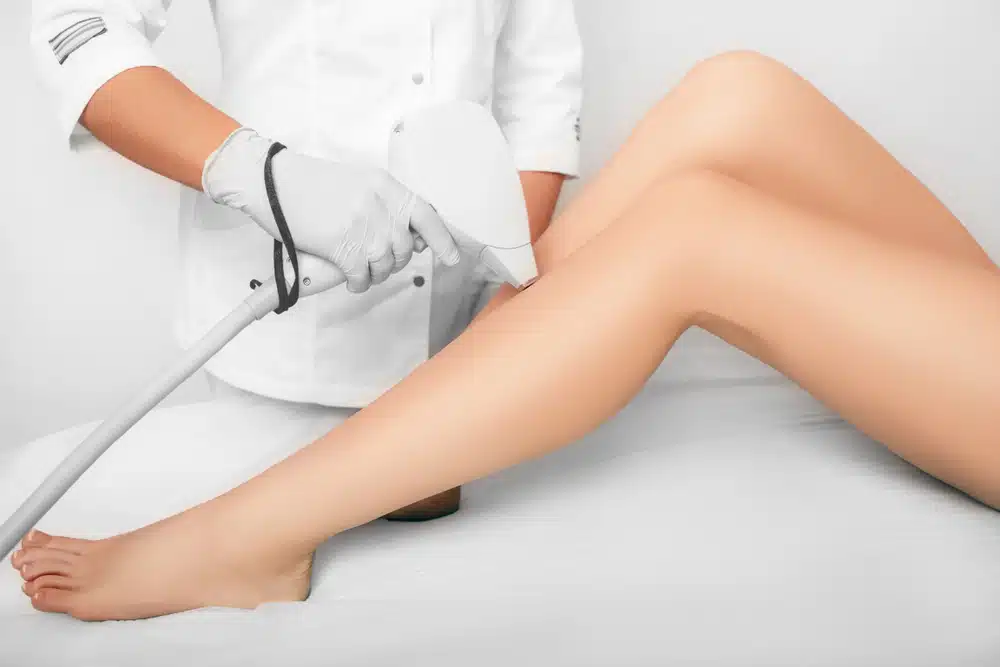 If you have unwanted hair, getting rid of it can feel like a constant cycle. Laser hair removal can offer a lasting solution. At Franklin Skin and Laser in Franklin, TN, we love helping our clients find the right solution for their needs. Today we're going to cover some common questions you may have about hair removal.
How Long Does Laser Hair Removal Take?
A small area, like the upper lip, could likely be done in under 10 minutes. Legs and arms can take a half hour to 45 minutes, and covering a large area at once could take over an hour. It all depends on how much of your body you'd like to treat. When we talk to you in person, we'll be able to provide clearer answers on how long your laser hair removal will take.
When you arrive for your appointment, we'll talk you through the process and answer any questions you have. Then we'll mark the areas you'd like to treat and deliver your treatment. Many clients use this time as a way to unwind and listen to their favorite music. It could also be the perfect opportunity to try out that new audiobook or podcast you've been interested in.
Your Treatment Series
Laser hair removal requires a series of treatments to bring you the best results. Hair growth is a cycle. Coming in for treatment every two weeks will help us make sure we thoroughly treat each hair follicle in the desired area.
Seven treatments should be enough to give you results you can enjoy in the long run. That said, if you find yourself with hair growth after the completion of your treatment series, we can help with that. We offer eligible clients free touch-ups for up to two years. We're determined to give you the results you want and are dedicated to providing quality treatment and support.
Completing Your Series
If you get halfway through your treatment series and are noticing great results, it may be tempting to cut the treatment short. While that is your call, we want to give your treatment the best chance to succeed.
Humans have a whole lot of hair follicles, and the last thing we want is for you to cut your treatment short and realize your hair has come back. By seeing the series through, you're setting yourself up to enjoy the permanent benefits of hair removal. As you start your series, you will probably notice results one to three weeks after your first treatment. Each subsequent treatment will build off of these results until you're left with smooth, hairless skin.
How Does it Work?
Energy Absorption
When targeted hair follicles absorb the laser's energy, that energy damages them. This drastically limits the follicle's ability to make more hair. The beautiful thing about this treatment is it's able to damage your hair follicles without harming the surrounding skin or tissues.
During your consultation, we'll take a look at your needs and your hair as we determine whether this treatment is the right fit for you. The good news is that as this technology has been improved upon, it's now able to target a wider range of hair colors and skin tones.
What Can It Be Used For?
The Legs
This versatile treatment can be used on almost any area of the body. If there's an area you'd like to treat and you don't see it listed here, that doesn't mean it's impossible. Feel free to reach out to us or set up a consultation so we can answer your specific questions. That said, the legs are one of the most popular areas to treat.
Legs take a long time to shave, and it's easy to miss patches if you're in a rush. Many of our clients have been shaving their legs daily for years or putting themselves through waxing or other painful routines so they don't have to shave constantly. If you know you don't want leg hair, and you don't want to deal with removing it all the time, laser hair treatment is a great option.
The Facial Area
Unwanted hair growth above the lip or around the chin is common regardless of your gender. When you don't want hair in those areas, it can decrease your confidence. This leaves clients with the option of daily shaving or painful plucking. Some clients turn to bleaching, but if you're not careful with that you could end up irritating the surrounding skin.
Unwanted facial hair can also travel down the face, along the jaw, and to the neck. This treatment is effective enough to treat small and large areas, and gentle enough to be used on the sensitive skin of your face and neck.
The Bikini Area
The hair around the bikini area can be tricky to shave. To make matters worse, this area is also sensitive. Many clients find themselves developing ingrown hairs and irritated skin around the bikini area when they shave. Laser hair removal can save you the annoyance of dealing with this hair, and the irritation involved with removing it.
The Underarms
The hands, arms, and underarms can all be treated. Much like the legs, under the arms is a popular area to treat since it's a common area to shave or wax.
The Chest
This treatment can be helpful for clients of any gender, and treating chest hair is a good example. Whether you wear a bikini or swim trunks, unwanted chest hair can make you feel less comfortable in your skin.
Those with sparse chest hair may find that, since there are so many areas of the body to shave already, it can be easy to forget about these little hairs until you're already out and about. Those with thick chest hair usually find razors insufficient to deal with it, and waxing is both uncomfortable and inconvenient. We can help you get rid of your chest hair for good.
What Else Is This Treatment Good For?
Various Conditions
Did you know laser treatment can be more than just a hair removal method? It's an excellent way to help with a range of concerns, which can include:
Body odor
Folliculitis
Sanitation
Ingrown hairs
Keratosis pilaris
Photorejuvenation
Sweating
What Are the Benefits?
Spontaneity
Unwanted hair is a bother to deal with all throughout the year, but it can be especially irritating during beach season. Many people want the ability to spontaneously go swimming or hit the beach during summer, especially since schedules are packed and it can be tough to find the perfect time.
If you feel the need to shave beforehand, you could be wasting valuable time and energy that you could be using to just relax. Having all of your unwanted hair taken care of beforehand can make it easier to make last-minute plans, so you can be beach-ready all the time.
Time
Shaving takes a lot of time. Trying to rush it can lead to an accidental cut, which will then need to be cleaned up and disinfected. Laser treatments can save you daily time, and cut the length of your showers down.
Even when you get waxed, you have to spend time either setting up a professional appointment or preparing the materials yourself. Saving yourself time and energy can help reduce stress, since you'll know that no matter how crazy life gets, at least you don't have to worry about managing unwanted hair.
Results
Shaving already has the downside of only lasting a day or two at most before you get stubble. The fact that it also frequently causes ingrown hairs makes the process even worse. If you're prone to ingrown hairs, laser treatment could be a great option. The treatment itself won't cause ingrown hairs and is often used to treat them. This can help soothe your skin and improve your comfort.
Waxing can also be tricky to do correctly. Getting it done professionally can add up over the long run, and doing it at home can produce mixed results. You have to be careful to apply it correctly and to protect yourself from burns. With laser removal, you can receive your treatment series and don't have to worry about it anymore.
Ready for Lasting Benefits?
If you're ready to say goodbye to the constant cycle of hair shaving and waxing, it might be time to consider laser hair removal. We can answer your questions, walk you through the process, and work together to schedule your treatment series. Contact us at Franklin Skin and Laser in Franklin, TN, today to set up a consultation!