How Does CoolSculpting Get Rid of Fat? Body Contouring Without Surgery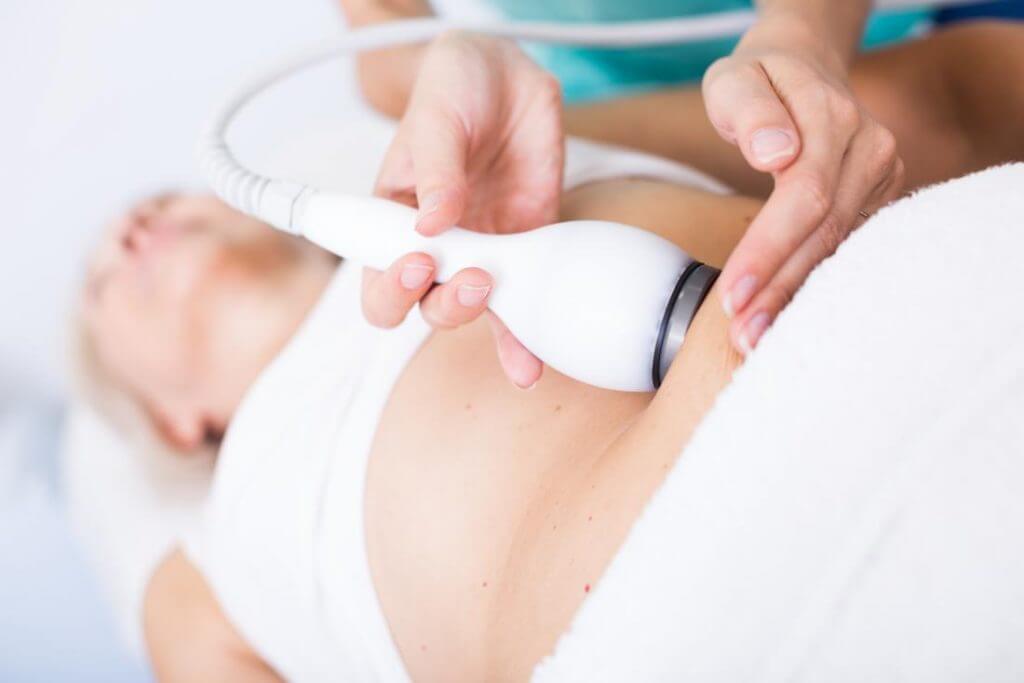 CoolSculpting is one of the most popular fat-removal techniques in the world because of the many benefits it offers. It is also one of the most popular treatments we offer at Franklin Skin and Laser in Franklin, TN. Dr. Bengelsdorf and our professional staff specialize in both minimally invasive surgical techniques and non-surgical body contouring options for the most natural-looking appearance enhancements.
What Is Body Contouring?
Sometimes diet and exercise aren't enough to get the body you want. Stubborn fat can linger even if you eat a healthy diet and exercise regularly. At Franklin Skin and Laser, we recognize all the hard work you put into achieving your dream body. We offer body contouring treatments to help you reach your goals.
Body contouring, or body sculpting, is a collection of specialized cosmetic treatments that can remove fat, tighten skin, and improve the overall appearance of the body. We offer both non-invasive and surgical body sculpting options with varying technology. This technology for treatment includes freezing temperatures, ultrasound energy, heat, and other methods. During your consultation, we find the perfect treatment option for your needs.
Which Body Contouring Option Does Franklin Skin and Laser Offer?
At Franklin Skin and Laser, we offer a variety of body sculpting options to our clients. Our board-certified surgeon Dr. Steven Bengelsdorf has years of experience delivering spectacular surgical and non-surgical body sculpting results for women and men. The goal is always to produce natural-looking results that work best for your needs.
Below we summarize some of the most popular body sculpting options we offer at Franklin Skin and Laser. Although booking a consultation is the best way to learn which treatment is right for you, the following information can help you get a better understanding of all options available:
Exilis Ultra 360 Skin Tightening
Exilis Ultra 360 is a non-invasive body sculpting treatment that melts stubborn fat in a matter of weeks. This safe and effective treatment requires no downtime, and the innovative technology targets fat cells while protecting the skin. We use Exilis Ultra 360 on several areas of the body, including the abdomen, arms, back, buttocks, face, knees, neck, thighs, and more.
Z-Wave for Cellulite Reduction
Z-Wave treatment is a radial shockwave device that improves the appearance of cellulite and stretch marks without discomfort or downtime. Treatment provokes metabolic activity by increasing the circulation of the blood and lymphatic system.
An improvement in the skin's structure and connective tissue result from this use of Z-Wave. This treatment also promotes a natural increase in collagen production for firmer and more supple skin.
Abdominoplasty
Abdominoplasty or a "tummy tuck" is a surgical procedure to remove excess fat or skin while restoring muscles in the abdomen. Abdominoplasty results provide a smoother and firmer abdomen for an overall improved appearance. This is one of the surgical options Dr. Bengelsdorf has great skill in performing.
BTL Ultra Femme 360 Feminine Rejuvenation
In as little as eight minutes, the BTL Ultra Femme 360 provides a safe, non-surgical vaginal rejuvenation without downtime. We are the first clinic in the Cool Springs area to offer this groundbreaking technology.
Ultra Femme uses a combination of ultrasound and radiofrequency technology in one device for labial remodeling and vaginal tightening. The process causes the body to produce collagen for ongoing vaginal and vulvar restoration.
Liposuction
At Franklin Skin and Laser, we offer several types of liposuction options to our clients. One technique is the gentle tumescent liposuction, which is the gold standard. Tumescent liposuction can remove fat from nearly every region of the body, including the abdomen, ankles, back, buttocks, calves, chin, flanks, hips, knees, and thighs. Tumescent liposuction is a surgical procedure that requires the exceptional skills Dr. Bengelsdorf provides.
Gynecomastia
For men who want to remove the fatty tissue in the breasts that contribute to "man boobs," gynecomastia is our surgical option of choice. Dr. Bengelsdorf performs this outclient procedure in a safe and discreet environment for men of all ages and circumstances.
CoolTone
Unlike many body sculpting treatments, CoolTone by CoolSculpting is a non-invasive treatment that targets muscles instead of fat. Through the power of magnetic muscle stimulation (MMS) technology, this innovative device enhances muscle tone and strengthens the muscles. CoolTone helps define and strengthen muscles in the abdomen, buttocks, and thighs.
CoolSculpting
CoolSculpting is one of the most popular treatments we offer at Franklin Skin and Laser because of the fast, non-invasive treatment times and gradual results it produces. Our clients find that after receiving CoolSculpting treatment for one area, they return for the same incredible benefits in another region of the body. Below we take an in-depth look at this incredible and innovative body sculpting treatment.
What Is CoolSculpting?
CoolSculpting is a non-invasive, innovative cryolipolysis body sculpting treatment that freezes fat away. This treatment requires no downtime, so you can fit appointments around your schedule. We've performed thousands of CoolSculpting treatments at Franklin Skin and laser, and for each treatment, we have a happy client.
If you want to remove stubborn fat without a recovery period, CoolSculpting is an excellent non-surgical option. The FDA approves this technology for several regions of the body, including:
Abdomen
Arms
Bra roll
Flanks ("love handles")
Neck
Thighs
Most clients experience a dramatic improvement in as little as one 35 minute session. Depending on the treatment area, you might have a longer session or require more than one session to reach the results you desire.
DualSculpting
Our clients love the effects of CoolSculpting so much that they often asked if they could receive treatment on more than one targeted area at once. By popular demand, we are proud to announce that Franklin Skin and Laser is the first facility in the Cool Springs area to offer DualSculpting. DualSculpting allows us to treat two separate targeted areas with CoolSculpting at the same time.
The Superior Cooladvantage Applicator
At Franklin Skin and Laser, we use only the latest technology for CoolSculpting, including the Cooladvantage applicators. The premier Cooladvantage CoolSculpting applicators provide faster treatment times, greater tissue coverage, and maximum comfort.
Our choice of CoolSculpting applicator makes all the difference in your treatment. Because this applicator delivers the most efficient and comfortable results, you'll receive the best CoolSculpting treatment in our office.
How Does CoolSculpting Get Rid of Fat?
As the name suggests, CoolSculpting uses cold temperatures to remove fat. This Harvard-developed technology, also called cryolipolysis, targets, and cools fat cells to a temperature slightly above freezing while protecting the surrounding cells of other tissues.
Through the use of the specialty Cooladvantage applicator, we offer precision targeting to reach fat faster. The Cooladvantage applicator delivers cold air to fat cells for around 35 minutes. Fat cells can't survive these cold temperatures and die when exposed to the CoolSculpting treatment.
Where Does the Fat Go After CoolSculpting Treatment?
One of the best reasons to use CoolSculpting is that it works with your body's own natural processes to remove fat. After the Cooladvantage applicator targets and kills fat cells, there is nowhere for the fat cells to go but out of the body. The body gently escorts these dead fat cells away using a natural process of elimination.
The body is in a constant state of regeneration. Cells die daily, and the body removes them. Cells targeted by CoolSculpting use the very same elimination channels as those the body removes every day. As the fat cells leave the body, treatment results become more noticeable.
When Will I See Results?
Results from CoolSculpting treatment are progressive and gradual. After treatment, the natural process of eliminating the dead fat cells takes between five and twelve weeks. Throughout this timeframe, the body releases fat cells incrementally, which changes the appearance of your body as the days go by.
Many of our clients find that this gradual change is much more desirable than a complete "overnight" transformation. CoolSculpting can provide dramatic results, but because it delivers the results over time, they feel much more natural. CoolSculpting is a subtle and discreet body sculpting treatment.
Is CoolSculpting Permanent?
The fat cells we target during your CoolSculpting treatment are removed permanently. The body removes all the targeted cells from the body in five to twelve weeks and they will never return. However, new fat cells can form. Continuing with your healthy routine of eating a nutritious diet and getting regular exercise can prevent new fat cells from forming and provide the most long-lasting treatment results.
How Will I Feel After Treatment?
CoolSculpting treatment is a short and relaxing process that doesn't require any downtime. After your session, you are free to resume regular activity and won't need to take a break from your busy schedule. CoolSculpting is a client favorite because it is one of the fastest and most effective non-surgical fat removal techniques on the market today.
Is CoolSculpting Right for Me?
Our Cool Springs clientele consists of both women and men who visit Franklin Skin and Laser Center for body contouring treatments. CoolSculpting may be right for you if you are close to your ideal body weight but are struggling to get rid of fat pockets. This treatment is also suitable for those who don't want the downtime or expense associated with surgery.
The only way to know if CoolSculpting is right for you is to schedule a free consultation with Dr. Bengelsdorf at Franklin Skin and Laser Center. During your consultation, we identify your body sculpting objectives and find the perfect treatment option for you.
Is Financing Available?
Health insurance rarely covers CoolSculpting or other cosmetic treatments, but that isn't any reason not to make a change. Come into our Franklin office to learn more about the variety of financing options we offer our clients.
About Franklin Skin and Laser
Franklin Skin and Laser is a physician-led medical practice operated expert healthcare professionals who specialize in cosmetic surgery and dermatology. You will always receive personalized care from Dr. Bengelsdorf, registered nurses, and licensed clinical aestheticians when visiting our office.
Cosmetic treatment is all about trust, and part of that is knowing that you receive treatment from professionals. Franklin Skin and Laser isn't a franchise, nor is it a Medspa. It is a medical practice run by Dr. Bengelsdorf. Each member of our staff takes your aesthetic, and skincare needs seriously. Together we develop a program that accentuates your natural beauty.
Steven Bengelsdorf, MD, FACS, is a board-certified surgeon with over 20 years of experience. He uses his combination of technical and artistic skills to achieve superior results for every client.
Schedule Your Free Consultation
Scheduling a free consultation with Dr. Bengelsdorf is the first step you can make toward changing your life and body for the better. Contact Franklin Skin and Laser in Franklin, TN today to book a consultation and to learn more about CoolSculpting and all body contouring treatments.