Get Rid of a Double Chin with Kybella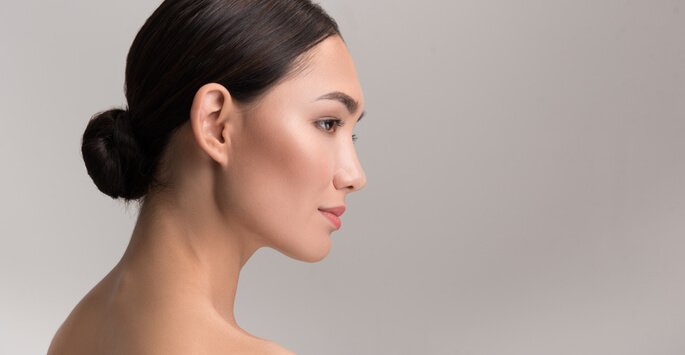 Extra fat underneath the chin, otherwise known as submental fullness or a double chin, can take away from your self-esteem. Kybella® is a highly effective treatment for eliminating this fat for good and reshaping your facial profile. Safe and FDA-approved, this treatment is completely non-surgical and results in zero downtime.
How Does Kybella® Work?
Your body naturally makes a bile acid called deoxycholic acid. A synthetic form of this is the main ingredient in Kybella® injections. When strategically injected into the excess fat underneath the skin, it targets and destroys fat cells. This leaves them unable to store fat any longer. They will never be replaced or repaired, meaning you do not need to worry about the extra chin returning.
It may take more than one session of Kybella® to get you to your aesthetic goals. A minimum of one month must pass in between appointments to allow your body time to flush out fat. The maximum number of treatments you can receive is six. Most people find that two to four treatments are enough to help them reach their goals.
Why Choose Kybella®?
Kybella® is a very unique treatment. There are many reasons to consider it if you are bothered by submental fullness, including:
It is safe and effective

The process is completely non-surgical

Results appear gradually and are very natural

Once optimum results are achieved, maintenance treatments are not required

There is no special preparation required or downtime afterward
This treatment is FDA-approved for use in adults 18 and older. It is a great option for those out there who are seeking dramatic results but do not want to have surgery. Kybella® may not be the right choice for everyone. We will discuss your medical history and goals at your initial appointment.
What to Expect with Kybella®
Step one is to sit down with the team at Franklin Skin and Laser at a consultation where we can discuss your hopes for the treatment and ensure that Kybella® is a good fit for you. We will create a customized plan to help you meet your goals. The number of injections you will need will depend on the amount of submental fullness you are trying to eliminate. This will also determine how many treatment sessions you will need. The injection process can take as little as 15 to 20 minutes to complete.
If you are ready to say goodbye to a double chin for good, visit us in Franklin, TN. We would be happy to answer any questions you have about Kybella®. Contact us today to schedule your consultation!