Frequently Asked Questions About Laser Hair Removal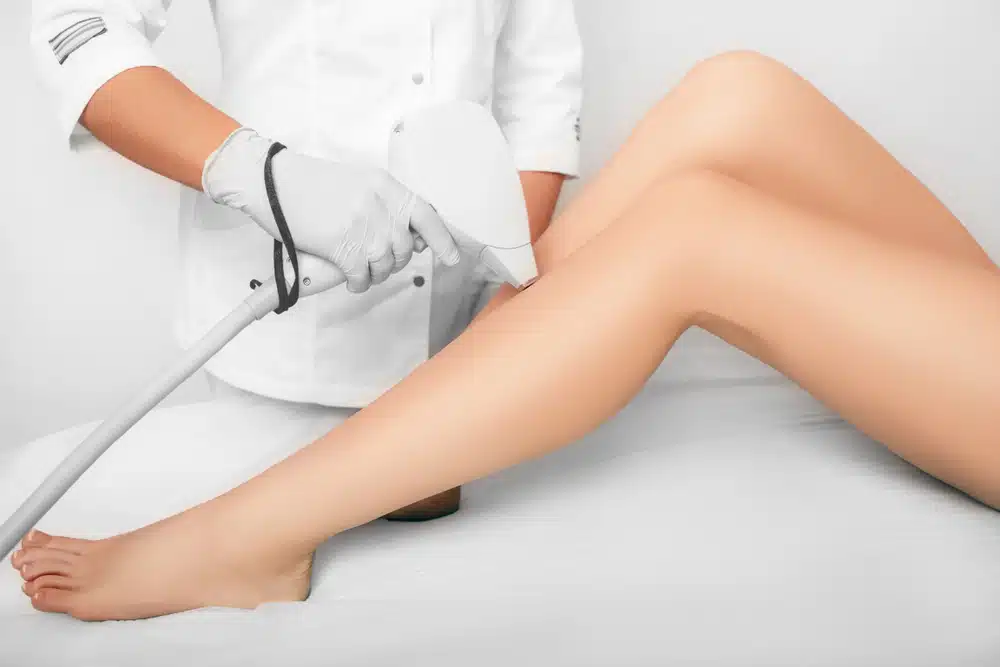 Laser hair removal is becoming an increasingly popular treatment because many people want smooth skin without having to invest so much time and resources in shaving, waxing, or applying creams. If you are ready to stop having to worry about shaving and all of the irritations that come with it, it may be the right time to consider treating yourself to laser hair removal.
At Franklin Skin and Laser, we offer laser hair removal treatments for our patients who are eager to put their shaving and waxing days behind them. We can treat many different areas from your legs to your armpits and we offer packages to make hair removal simple.
What Is Laser Hair Removal?
Laser hair removal is a process that involves permanently damaging hair follicles so that they no longer grow hair. During a treatment session, a customized laser device is used to target the color of your hair. The laser, which is attracted to the melanin in the hair, produces heat energy which heats up and destroys the hair follicle.
Once the hair follicle is damaged, the hair falls out on its own. With this treatment, you can achieve longer-lasting results than with other solutions that temporarily remove or cut the hair.
Frequently Asked Questions
Is Laser Hair Removal Permanent?
Once a hair follicle is destroyed with laser energy, the hair does not grow back in most cases. This is why laser hair removal is considered a permanent option. However, your body can go through hormonal changes which can sometimes cause some of the hair follicles to become active again. To account for this possibility, we offer free maintenance appointments for two years after you finish your round of treatments.
Why Are Multiple Treatment Sessions Needed?
Since laser hair removal devices target the melanin in the hair, not all hair follicles can be treated at the same time. This is because your hair follicles are always cycling through different stages of growth. Some of your hair follicles will be in the active phase of growth while others will be regressing or resting. Laser hair treatments only work on follicles that are in the active stage of growth. You will need to come back for multiple sessions to allow other follicles to return to the active phase. We offer packages of 7 treatments to help achieve as much hair reduction in the area as possible.
Can Laser Hair Removal Be Used on All Skin Tones?
If you have a darker skin tone, you may have been turned away from other offices after seeking laser hair removal. This is because many older lasers can only safely be used on lighter skin tones with darker hair.
However, our lasers offer much more diversity and can be customized to treat a wider variety of patients. While gray and light blonde hair is still difficult to treat because of the lack of melanin in the hair, almost all other hair colors and skin tones can be candidates for the treatment. The best way to find out if the treatment is right for you is to schedule a consultation.
What Is Brazilian Laser Hair Removal?
One of the most commonly requested treatments is Brazilian laser hair removal. During this treatment, we can remove hair from the bikini area. Our bikini laser hair removal treatments can be customized to remove as much or as little hair from the area as you want. We always prioritize your privacy and comfort during this and all of our treatments.
What Does Laser Hair Removal Feel Like?
Laser hair removal can be comfortable when done by the right provider. Local anesthetic can be used to dull the sensation in the area and minimize the pain. Some providers also use ice to make the treatment more comfortable. Without anesthetic, laser hair removal treatments will feel like a snap on the skin which is generally very tolerable. Many laser hair removal devices also include cooling technology which will cool the surface of the skin even while the hair follicle is being heated.
What to Expect After Laser Hair Removal
When your laser hair removal treatment is complete, your skin may be a little pink and swollen, but this should not prevent you from returning to normal activities. Some people may not experience any redness of the skin at all. While your skin heals, you avoid excessive sun exposure and you should avoid using tanning equipment or harsh products.
Hair loss from the treatment is not immediate. It will take some time to notice hair reduction. After one or two weeks, the treated hair will begin to fall out. After the first appointment, you may see anywhere from a 10% to a 25% reduction of hair. Further treatments will increase this percentage. After your full treatment session, you can expect to have 90% hair reduction or more.
Best Laser Hair Removal Treatments in Franklin, TN
At Franklin Skin and Laser, we always use the best technology possible to help our patients achieve the best results. Appointments at our clinic are always relaxed and comfortable and we strive to customize each treatment so that you get the exact services you need. Our luxurious clinic is equipped with air filtration systems and ultraviolet lights for a safe and clean experience, and every patient who walks through our doors is a V.I.P. If you have been considering laser hair removal treatments, you can schedule a consultation with us today! Give us a call at 615-800-7879, or fill out our online forms for more information.